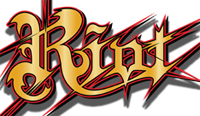 Riot is an American heavy metal band founded in New York City in 1975 by guitarist Mark Reale. Reaching peak popularity in the early 80's, they have continued a long-running successful career touring and releasing new music.
Riot has toured with AC/DC, Molly Hatchet, Sammy Hagar, KISS and Black Sabbath, among others.
DRM helped produce and manage all touring sales for all the North American touring dates, as well as create, manage, and fulfill all online sales for the band.